News
Travels and thank you's in Lynne's latest blog
02-11-2012 15:46:01 by Woodlander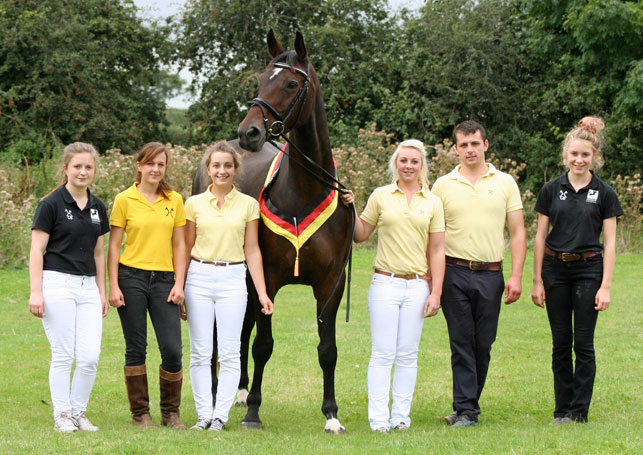 Above - The Woodlander Team (less Carsten!) photographed with Supreme Champion St Pr Louisiana at the BHHS Annual Show. From left to right Simone, Kay, Becca, Lindsey, Jack and Iona.
Lynne has been busy as usual, both with travelling and business, but she's found the time to write her latest blog, including a big 'Thank You' to the team at Woodlander, who have made 2012 a great year.
"It's only eight weeks to Christmas so the downtime that is the pattern for this time of year is being threatened by vague feelings of unease about how prepared I am for Christmas!
Since my last blog, Dave and I have spent some time in Sicily and had a good long relax but I also have to keep working. My workload, apart from horse issues, is enormous at the moment and everyone is trying to get some holiday. Lindsey is off to the US for a couple of weeks and Carsten and Jack will go somewhere warm too. These guys are amazing and have worked to deliver one of the best years we have ever had. These are the sort of people who should work with horses… it is their life and they are totally dedicated. They are Woodlander Stud!
Some people talk the talk but faced with the reality of a horse career, they seem to think it is like the Civil Service. Actually, in any job, 'ownership' of what you do is fundamental. Enough moralising I think! But I would like to make a big and public 'Thank You' to them. We were also joined in June by Becca who I had met at the Young Breeders training last year. She has also reflected immediately the effort, flexibility and dedication that are needed to support the administration and organisation side of the stud..."
Read the rest of Lynne's blog on Horse Hero, it's free to register for all the editorial, and for a small subscription you can view over 500 training videos, including the Eilbergs at home with Rockstar, Wavavoom and Farouche.