News
A successful end to the Futurity season!
06-09-2012 11:55:08 by Woodlander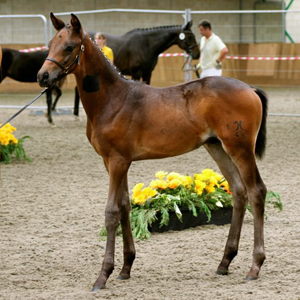 It's time for the last Futurity update of the season, as the final evaluations of the year took place on 4 and 5 September at Solihull Riding Club, and what a wonderful end it has been.

Wednesday's superstar was Heaven (Hotline x Londonderry), owned by Sara Lucas and bred by Woodlander Stud, who finished with a huge Elite score of 9.66 - becoming the highest scoring horse of the evaluations this year, and the third highest ever seen at the Futurity series. Our yearling filly, For Your Love (For Compliment x Longchamp), also brought home an Elite score to become this year's second high score Dressage yearling, with Watusi (Wavavoom x Florencio) becoming the Reserve High Score at the venue today for Dressage foals. Our 2 year old mare, Walk on the Wild Side (Wesuvio x Fuerst Heinrich), just missed out on an Elite - once again reminding us of the need to bring them in sooner than the day before!

And last, but certainly not least, in Tuesday's evaluations Wonderwall (Wenckstern x Mondriaan), bred and owned by staff member Lindsey Froggatt, also brought home an Elite score.
So this year we bred the top foal (Heaven,) the top pony foal (Wallis) and the top dressage three year old (Dr Feelgood), and Wavavoom was the top UK based stallion! Elite classifications were down a little this year but we still managed a very good few including, for Ali Walton, the colt foal Archie Mali by Ampere. The best thing is the performance of our stallions in the rankings and what they have given to other breeders like the delighted Andy Reeve, who gained an Elite for his yearling Wasimah by Wavavoom. This is what makes it all so rewarding and we're already looking forward to next year!
Read Lynne's latest blog on the Horse Hero website for all the latest news, including the recent BHHS Annual Show.