News
Mixed emotions and Lynne's latest blog
06-10-2012 17:52:01 by Woodlander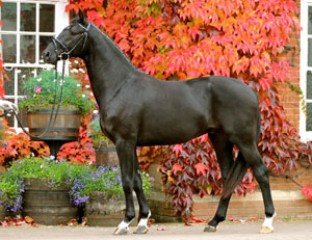 It was mixed emotions last weekend at the WBS-UK Stallion Licensing, more of which in Lynne's latest blog (see bottom paragraph). Warm congratulations to owner Bruce Matthews, who sent Larkshill Debonair (pictured) to Woodlander Stud for preparation. He gained life approval at the event, a great achievement for Bruce and breeder, Heather Stack.
On the other hand, our Internationally Approved Hannoverian stallion, Clapton, gained a 2-Year Breeding Permit, as unfortunately he did not cover himself in glory on the day - refusing to show any pace other than flat-out gallop as he raced and leaped around the arena like an idiot… It happens to the best of us! Overall, it was a pretty uninspiring 24 hours, although the Champion and Reserve (by Ampere and Floriscount respectively) were very attractive types – congratulations to all involved.
Lynne's latest blog is now available on Horse Hero and covers the Licensing in detail, as well as thoughts on stallion preparation and judging. There's also a look back at the Nationals and news from the stud too. It's free to register on Horse Hero and for a small subscription you have access to over 500 videos, including some fantastic training sessions with the Eilbergs working at home with Rockstar, Wavavoom, Rosie and Farouche.