News
Read Lynne's latest blog here!
07-03-2012 22:20:32 by Woodlander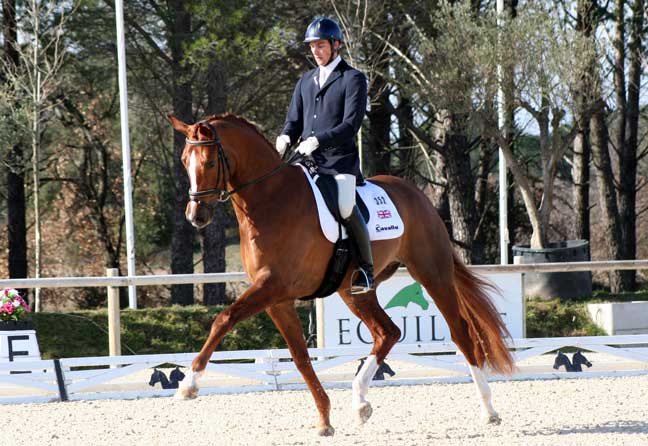 Here come the girls! What a spectacular start to the dressage year we have had. In glorious sunshine, a posse of British riders and the happy campers that we are, were treated to wins with very high scores. We were in Vidauban where just as a tip for other venues, the show owner came and thanked us all for bringing our horses to her arenas and helping to make the show possible. It has a very nice atmosphere and sits in a much more convenient place than the old Sunshine Tour venue in Spain. This is important for the horses as, over two weeks, they may do up to six classes and the additional days of travelling can be a bridge too far.
Dave and I only flew out for just under a week as we are in full swing with work and arrangements at our new yards (more later). Our friend Ali had found a wonderful villa that was fairly close to the venue, set high amongst the hills just a few miles from the coast. What a treat! It had the great French provencale shabby chic look with big open spaces, terraces, a pool (too cold, brrrrr!) and that great light that floods the South of France - just an hour's drive from Nice (which is an easy airport). It is a region really benefiting from the traditional wine growing areas coupled with the touristique influence on bars and restaurants. We ate amazing food and shopped in a mix of the village Spar, Intermarche and the artisan butchers and bakers that make France so special. Even without the dressage it would have been a super break!
We were joined by Ali's Mum who kept us all in order, John Walton and then John and Julie Deverill whose amazing mare Half Moon Delphi was there to sharpen her Grand Prix pencil. With only a couple of UK outings under her belt (and a couple of wins) this was a testing environment. Probably the most tested member of our party was John Deverill, who swiftly became our Hon Sec with his extraordinary appetite for scores and positions. It was as well that he had this therapeutic outlet, as the event was very stressful with hot competition from Emile and Carl as well as other international riders from Holland, Germany and, of course, France.
The results were very pleasing. Marakov won the Inter II in the first week, Delphi triumphed in the GP Special with high scores and Rockstar and Rosie doing their usual turn and turn about routine in the PSG and Inter I. Both are working GP now but the Eilberg approach is never to wing it but to consolidate the work. I could not help but be proud of both of them. Maria has really turned a corner with Rocky's balance in his changes. This is no mean task as he regards every diagonal as a hunting start and sets off at a great pace. He is a big horse to hold but, thankfully, also a very kind one. I have had one or two doubting moments about his potential for GP because of his changes, and I was delighted to see my fears completely unfounded.
He did look very black and shiny in the sun and could have had a 2nd in his Inter I but for the re emergence of some mystery judging with most judges having over 70% and one having him on 64%ish. This was to become a common issue with some of the most erratic placings I have ever seen. It was so bad that at one point one of the very experienced judges appeared to lose the will to live, so "out" were her colleagues!
It is an interesting phenomenon to watch these guys at work. You could be excused for just seeing them as totally partisan and "Uber" enthusiastic about the riders from their own countries. The reality is they are most used to these riders and the training style and culture of their country, so they do have to make a big adjustment when judging internationally. The tension versus forwardness camps are very divided, I think?! It is also very hard if you are a judge coming from a country with little or no tradition in the international arena, so South America, Asia and even parts of Eastern Europe are on a journey.
Rosie (Donroeschen) was super and her new Kur music, especially written for her, is very evocative and suits her well. I hope that Rocky will grow out of Madonna and soon also have some new music, as it is so important. Maria also had good rides with U Rockstar who seems to be now on a very good path.
And then there was Farouche! Not having seen her the first week, I was interested to see her working at this new level. There she was, in all her gingerness and she did not disappoint! Michael rode brilliantly with so much attention to the preparation of this huge moving mare. The effect of this preparation was a wonderful balance in her medium and extended trots, now more consistent than ever. The results were there to see - 96% in the prelim' round and 95.2 in the final. Not to be forgotten, is that this is a big jump up from the five year old World Championship, it's basically Advanced Medium, and to start our season with more or less the score which we finished on last year was something else. Her changes are also big and uphill and one judge commented afterwards that her tempis would be interesting. My husband Dave's reply was that it was time to recognize the evolution in the gaits of the modern dressage horse, especially Farouche, and make arenas wider and longer!
We are just waiting for our first foal but hoping that she does not arrive before the mare barn is moved. Yes, you heard right! We are moving it to bring everything closer together. This is always a time of year when I revisit my stallion choices and end up re-writing them all. I spent two weekends in Germany at the beginning of February looking at stallions in Verden, Munster Handorf, Vechta on some big and some small private studs. It was great but, at the end, out of 140 stallions I will only use half a dozen. For me this year it is our stallions of course, especially Supertramp, who will also be inspected by the Oldenburgs, but then some interesting outsiders.
The beautiful and "sportlicher" Trakehner Schwarzgold (Imperio x Consul) on my Consul mare; Fiorano (Rousseau x Rotspon x Lauries Crusader) for his astonishing collection and talent for Grand Prix work but on a mare with a very steady temperament and a good neck; Fuerst Romancier on my Lauries Crusader mare who just needs a bit more scale; Quasar du Cherry on the full sister to Wenckstern; For Compliment on three mares again, including a new mare from an amazing dam line which includes the stallion Christ and Top Gun La Scilla: Ampere on my Johnson mare; Lemony's Nicket is the stallion of choice for our Dornroeschen ET and Supertramp for Farouche. We also saw a very stunning three year old Trakehner stallion, Hancock (Imperio x Munschhausen) and we need to choose one of our own or client's mares for him.
Another great excitement for us is the Westfalian Hengstbuch I stallion, Don Bedo II who has just arrived and we are all in love. Donnerhall x Rosenkavalier x Apart makes a fabulous horse for temperament and paces. He is a real dressage horse but has an injury which we hope we may be able to manage and get him back into the sport. In the meantime, we have some mares waiting for his attention, including our Fidermark mare who, with him, may make another Dancing Dynamite.
I am now losing track and just this afternoon, I listed the mares for which we are responsible to get in foal. There are 35 of them and this is before our visitors to the stallions! The event programme is moving on apace with Alison and Maria Delves, her horse collaborator in Eventing. We are booked to Estaban, Royaldik and Grafenstolz but will also use Chacco Blue, I think. It is all so absorbing. This year will fly by and we are already discussing which horses for Vidauban next year. It is now just late enough for a proper drink. Cheers!