News
Woodlander Farouche is World Champion 5 Year Old
09-02-2012 22:52:06 by Woodlander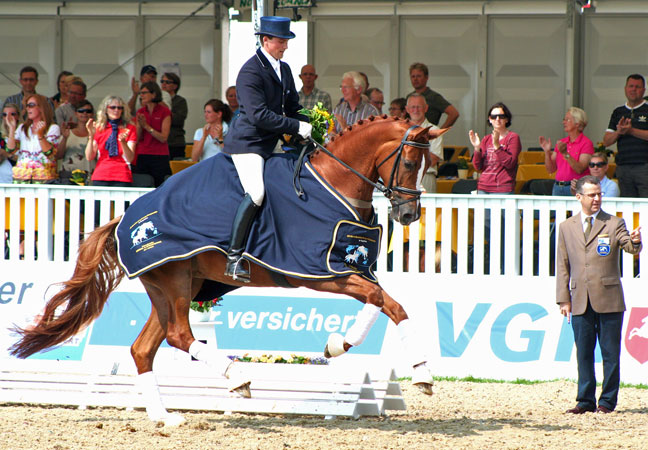 6 August 2011 - Woodlander Farouche scored a stunning triumph for British breeding when she became World Champion 5-year old in Verden, Germany. This is Lynne's account of the event, as published originally in Horse Hero.
..."It just goes on and on! I cannot believe the last seven days which have been the longest, most exhausting, most thrilling and also full of the most wonderful people and, of course, some very special horses.
A few days before this fateful week, it looked like plans might unravel as our travel arrangements with friends came under pressure from my headhunting work. Farouche, Two Sox and Marakov set off to Verden with the usual meticulous planning and arrangements by Family Eilberg and the horses had a star-studded trip including a short stay with Hinneman, and then on to some wonderful German friends of ours in the Verden area where they could unwind from the journey, ahead of the World Championships and the CDI for Two Sox and Marakov.
Check-in at Verden for the horses was Wednesday and Farouche's first competition was on the Thursday. The two legged travellers checked into a lovely hotel in the forest about 20 minutes drive away, determined, whatever should happen, to have at least a good break. I don't think any of us foresaw the emotional stress and challenge to come. The "hotel" arrangements for the horses were certainly not 5 star! On arrival at Verden, first hopes of the executive stable suite were dashed when the union jacks on the doors proved to belong to Emma Hindle's horses. The WBFSH horses from the smaller (and I think they thought, less likely) entries were quartered in the equestrian equivalent of the slums of Mumbai... small, cramped, and crowded. Farouche showed her usual rather sanguine approach to things and promptly found the most comfortable place in her stable in which to go into one of her coma-like sleeps while Two Sox and Marakov chaperoned her from either side.
Following a rather exciting trot up with young testosterone-filled and wired stallions blowing up on either side, Farouche was worked quietly in the warm-up arena with Michael attempting to steer her through the melee of horses. It was very crowded but they both coped and this rather understated work gave away no clue as to what engine she had under the bonnet. The instructions from Ferdi to not show what she had, were good and following a trot through the following day's competition arena, the mare went to bed. What was marked already was the big difference between the natural uphill and engaged tendency of Farouche and the large amount of sweat required to bring her competition to the same state of engagement.
The draw for the first preliminary competition gave a goodish place although in a long class we would have preferred to be in the last third rather than the first. There were six groups of 5 year olds and Farouche was in the second group. This meant, with over thirty horses and some very big guns, that it would be a long wait to see whether we went through. With hindsight we were mad! Michael was the only one to really and totally trust the mare not to let him down and, despite a couple of sticky transitions, she delivered in a big way!
They did not see her coming! Having gone through the usual careful and quiet warm up, when she came into the buzzy arena she began her test with total composure allowing the spectators (except us) to continue to chat amongst themselves, assuming, in many cases, that here was a British horse that was unlikely to upset the German/Dutch dominance of this event. However, when she did her first medium trot, which is always closer to extended, there was a gasp and suddenly they took notice. When her marks came through with a score of 9.28, they knew she was a threat. Many of them also knew that she was the best horse there. Although this was just the first qualification, there was a big shindig when she won with an average of 0.5 ahead of another good mare, Damons Divine and the Dutch Champion, Bretton Woods. She had seen off some top stallions and she was on top of the world! The strain of the day was soon forgotten as we headed off to dinner following a small press conference where the media first started to get excited about this unknown pairing of Michael and Farouche.
If we thought that Thursday was stressful, Saturday, Final's Day, was a million times worse. She was favourite to win in many eyes and everyone, including the President of the World Breeding Federation, Jan Pederson, was crossing their fingers that nothing would go wrong to prevent this mare, who was in a class of her own, from winning. With the best kept 'til last, she was indeed last to go. Dave and I watched the first three or four horses but could not cope with the electric atmosphere in the tribunes. We went and lay on the grass and went to sleep. How would Michael cope with this pressure? How would Farouche cope with the atmosphere which, with a packed arena, was buzzing with expectation. My skin has goosebumps just remembering this. Adding to the strain was the addition to the final, of those who topped the consolation final. The horses that had a "bad day" in the Preliminary are given a second chance in the "Small Final" and the best come through to the final. Some scores, the stallion De Champ, were frighteningly close to hers.
There were some good tests including Damons Divine who delivered another good performance. And then Farouche entered the arena. The audience was silent. Michael started his test and you could hear the spectators' breath being held as he steered her through the moves and transitions. When she broke for a few steps in the medium there was a dramatic gasp but Michael's focus never changed and he rode her with extraordinary lightness AND power through to that final salute when the audience roared with delight and the applause seemed to go on forever. The judges joined in the excitement delivering their appraisal of the test with clear celebration of this extraordinary animal....10 for the walk...9.8 for the canter.....9.6 for submission and so it went to a final 9.72 as a final score. The place exploded and everybody, winner or loser celebrated this truly outstanding horse and her equally extraordinary 24 year old rider!
What followed was a blur of a big Formula 1 type press conference where Michael, because he says what he believes and that which is, was very impressive. Some journalists (most) were on side but some of course, were more cynical with one pronouncing that they would never have thought that anything significant could come from British Breeding. I reminded him that we invented the thoroughbred and he reminded me that was three hundred years ago! Well, we are back!!
I think all the owners and supporters and wonderful friends who came to add their wishes and hopes to ours, were exhausted too. The assumption that there would be major celebrations was way off beam. We were too drained. There was still the stadium prize-giving to come (a second prize giving) this time in front of well over 5,000 people with spotlights loud music and impending fireworks. As Michael rode the lady around this enormous grass pitch in extended trot and canter she did not flinch and reminded us again that she is a once in a lifetime horse.
This event is a breeding event and so, unlike most competitions, sadly, the breeder is also a centre of attention. Congratulations, hugs, hand shaking and questions about what next abounded. I have to confess that I felt that I could not take credit for this god-given phenomenon. As a breeder you are working towards a template of, in our case, a great dressage horse and you think of the dam and use the sire to, hopefully improve one or two elements. Dornroeschen is a very, very good mare but you would want to improve her "roundness" in a rather angular body. Fuerst Heinrich was a very round horse, big but not with exceptionally long legs, but he was world champion himself, as was Dornroeschen's sire, Dimaggio. He seemed a good choice but you would never have expected to get as close to perfect as is Farouche.
What finally convinced me about my breeding decisions was what happened yesterday at the Futurity with four foals. One out of Dornroeschen by For Compliment (a sort of three quarter brother to Farouche); one out of Rockstar's mother by Wavavoom; one of a welsh C pony mare by Wavavoom; and Wild Child by Wavavoom out of Farouche. They were all Elite foals with Wild Child taking the record for the highest ever score of 9.79, even beating his mother. I cannot wait for 2016 and his turn in Verden."