News
Futurity Update!
14-08-2013 15:23:00 by Woodlander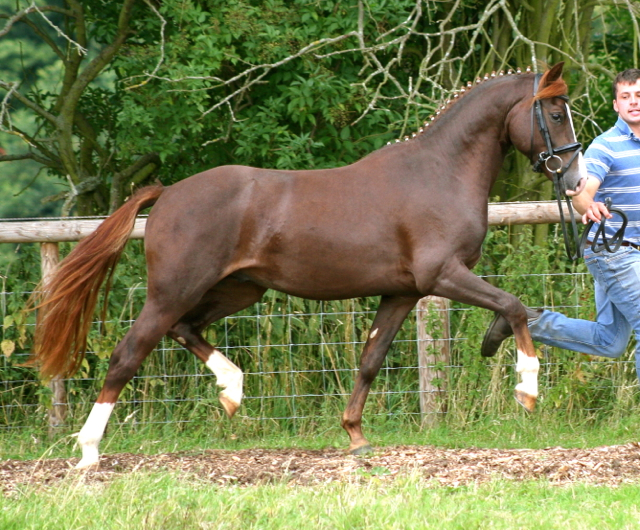 We've had a superb start the BEF Futurity Series this year, with some great scores for our young horses across the evaluations.
At Hartpury we presented a number of Supertramp's first crop of foals who really shone, bringing home three Elite Premiums and one very good Higher First. They took the Reserve High Score on Day 1, and both the High and Reserve High Scores on Day 2 in the Dressage Foal section. Goetterfunke also made his Futurity debut with a cracking colt out of our foundation mare St Pr Savannah, gaining the Reserve High Score of the day in the Show Jumping Foal section. Congratulations to Alison Walton, breeder of Simbambili (9.43); Eva Broomer, breeder of Silver Lining ZB (8.86); and Debbie Green, owner of Sugar Pie (9.05).
Arena UK meant a very early start for our two dressage three-year-olds. We had great vetting scores over nine and good scores for Rock Music giving a Higher First with 9s for walk and trot. Some disappointment with the perception of Walk on the Wildside, however you have to take the rough with the smooth. Let's hope she makes it to Verden like her mother and International Small Tour like her Grand Mother and emphasises the scope and specialness that a top international horse needs.
Catherston meant another early start for our boys yesterday. Our beautiful Clapton showed his very good jump and gallop and why he is going to Burghley- lots of interesting blood with him, bringing Holsteiner jumping blood with Thoroughbred, a dash of Hannoverian tradition and then some great Trakehner blood including the wonderful Consul. Even more impressively he had not jumped for a year! We were delighted with our higher firsts for Winwood and Debonair, however frustrated that Debonair missed his Elite by being so distracted by mares etc. - he was only .07 short but they saw him for what he was… a great and modern son of De Niro with exceptional strength and balance for his age. The highlight of the day was, of course, Wales (Pictured). Elite again and still very much a pony stallion! Our guys Carsten, Jack and Lindsey did a great job, but four stallions on a lorry was not a relaxing experience!
More mares and foals are being prepared for Keysoe at the end of this week, then onto Solihull for the final few – some exciting children for Supertramp, Wavavoom and Wenckstern are on their way…