News
A very successful BHHS Annual Show!
20-09-2012 23:39:38 by Woodlander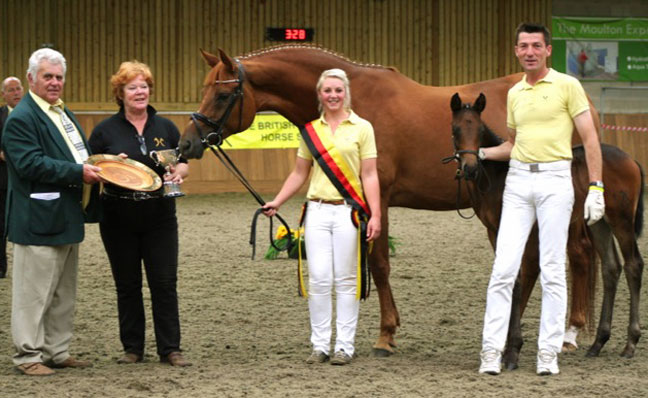 Lynne reports from the BHHS Annual Show on 1 and 2 September at Moulton College in Northamptonshire. (Main photo, Heaven (Hotline x Londonderry) Winner Colt Foal Class and Foal Champion, with dam Limoncello, winner of the 6-9 Year Old Mare Class, with BHHS President, Ted Green; Breeder, Lynne Crowden; and handlers Lindsey Froggatt and Carsten Sandrock.)
"We had a tremendous weekend at the BHHS Annual Show. The results could scarcely have been better with our two colt foals taking first and second in the colt class. Heaven and Waterloo were both bred by us but now belong to new owners. Our filly foal, Watusi, stood reserve filly. She is gorgeous, by Wavavoom (as is Waterloo) out of Elite Foxy Lady, but may also be off to a new home. Heaven, by Hotline out of State Premium Limoncello, now owned by Sara Lucas, is also of course, half brother to Clapton, our 2 year old colt who was licensed internationally at the show. This is further evidence of the need for special mares and I still believe that one of the best ways to do this is to buy a really top foal with a great dam line.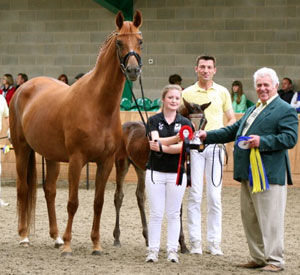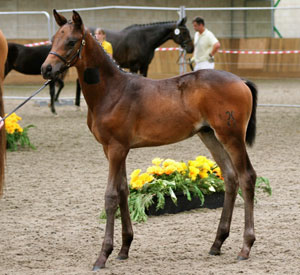 Above left, St Pr Limoncello (Londonderry x Benz) Dam of the weekend's foal champion Heaven (above right) and licensed stallion Clapton (below). She was also winner of the 6-9 Year Old Mare Class. Pictured: Simone Lennox and Carsten Sandrock with BHHS President Ted Green.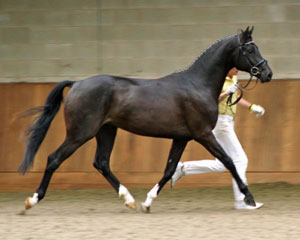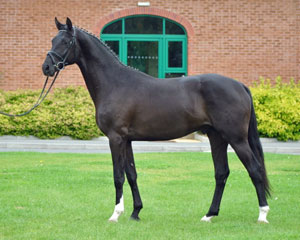 Above Clapton (Eric) (Christ x Londonderry) Licensed Internationally by the Hanoverian Verband.
Our new mare St Barth, by St Moritz, was second in the 4 and 5 year old class but achieved fantastic studbook scores from very enthusiastic judges. Maybe she is a little short legged but she has an amazing head and neck and super elasticity. She is in foal to Lemony's Nicket. I had planned to sell her after one filly foal bred, as she comes from the dam line of Christ and we shall put her to Clapton next year, but I just adore her so this might be a struggle. This year I have been struck by how easy it is to become distanced from the very things that make it all worthwhile, the horses!
State Premium Limoncello won the 6 to 9 year old class with Diminuendo in third place. Diminuendo is the dam of Waterloo and also has a new home as I attempt to execute my retirement plans! St Pr Louisiana won her 10 years and over class and just looks so elastic and athletic. She is by Longchamp who was never a big name for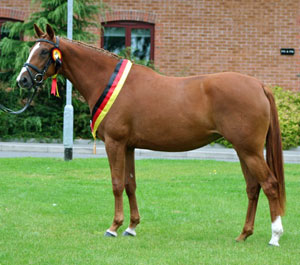 breeding, but we bred three full brothers and sisters and they were all wonderful. I was thrilled to see her full brother Little Richard is back on the scene and winning. Louisiana is the dam of Wavavoom and our new potential star, For Your Love.
The show culminated in a Supreme Championship and this was the hottest ticket in town. The Foal, Youngstock and Mare Champions in the arena were all bred by us bar two, who now belong to other breeders. Nicole Nelson owns the Youngstock Champion Ballet Time (Bertoli x Wittinger), pictured right, after she bought the dam Wanda, in foal, from us. Louisiana (below) took the Supreme. She is a wonder although we have not managed to get her in foal since she foaled with For Your Love last year. Ballet Time was a good reserve. Heaven, the Foal Champion was exhausted by the end of a long day!"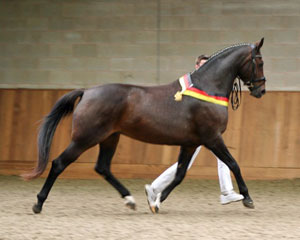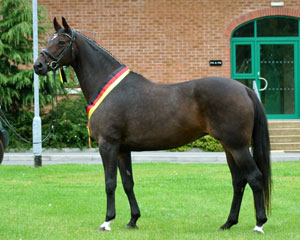 St Pr Louisiana (Longchamp x Davignon I) Winner of the 10 Year Old Mare Class; Mare Champion and Supreme Champion (Dam of our licensed stallion, Woodlander Wavavoom).