News
Brother to Woodlander Farouche to be sold at 2013 Brightwells Auction
22-11-2013 14:47:12 by Woodlander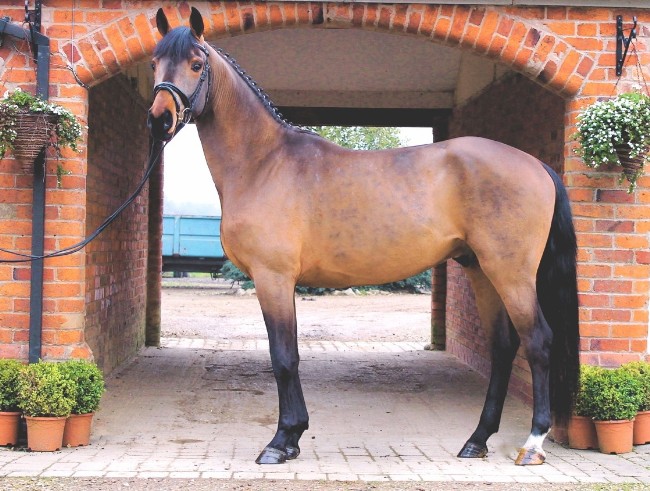 The first ever sibling of the double World Champion Woodlander Farouche to be offered for sale, will come under the hammer at 2013 Brightwells December Elite Auction on Saturday 7th December at Addington Manor E.C. in the United Kingdom.
This high quality two year old stallion named Woodlander Freddie M, a son of For Compliment, is bred by Lynne and Dave Crowden's Woodlander Stud and the Eilbergs, offering buyers worldwide the unique opportunity to acquire one of the best bloodlines in Dressage breeding.
Auctioneer Richard Botterill of Brightwells expressed his delight in securing such a prestigious horse. "We are privileged and honoured to be given the instructions to market and sell a horse that is as 'Rare as a Penny Black'. Woodlander Stud have been great supporters of our sales and purchased Farouche's mother Dornroeschen at our Foal Auction".
Lynne Crowden commented "As British breeders, it is only fitting that the only UK based auction house of Sport Horses were given these instructions. This is the first sibling of Farouche that we have ever offered for sale and our decision to sell is one based on the fact that selling horses IS our business, once we have bred them. We always felt that at some stage it would be important to release these amazing bloodlines. Our industry is international and Freddie M will hopefully provide his new owners, and perhaps a new nation, with exciting possibilities for sport and/or breeding."
To view the full catalogue, which includes videos click here.
For further details please contact:
Richard Botterill - Tel. 0044 (0) 7770 766769 or Email: richard.botterill@brightwells.com
Lynne Crowden - Tel. 0044 (0) 7768 323351 or Email: lynne@woodlanderstud.com