News
Look at us!!
26-04-2012 17:34:59 by Woodlander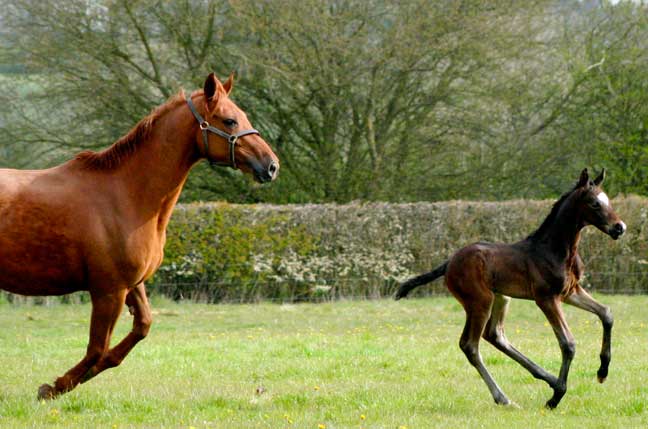 Franz Ferdinand and his surrogate mother Waltzing Matilda spent some time in the sunshine this week. This lovely foal is out of our successful competition mare Dornroeschen by the highly regarded Fuerst Heinrich, and as such is the full brother to our 5 year old World Champion Farouche.
Fuerst Heinrich was himself the 5-year old World Champion in 2003 but has sadly died. It was due to Farouche's success in France early last year that we were able to use frozen semen with Dornroeschen prior to embryo transfer to Waltzing Matilda. It will be fascinating to see if Franz Ferdinand can emulate his famous parents and sister as he grows up – he certainly looks the part!
Not to be outdone, our foal Wallis (below right) is also a very well connected young man. By Wavavoom out of our pony mare Helen, his full brother Wales did exceptionally well last year achieving Elite Sports Pony Futurity, Small Competition Horse Champion SPSS, and Supreme SPSS. This is no surprise as Wavavoom really stamps his offspring and last year headed the stallion rankings for the BEF Futurity having presented 10 foals and achieved 6 Elites. Wallis looks more than capable of following in their footsteps.