News
Seven foals successful at Futurity!
26-08-2012 16:05:13 by Woodlander
The show season has well and truly started here at Woodlander, with seven of our foals being presented at the BEF Futurity evaluations at Keysoe on 23 and 24 August.

Proceedings got off to a great start on Thursday, with both of our dressage foals gaining Elite premiums! Woodlander Waterloo (Wavavoom x Don Frederico, and owned by Carsten Sandrock and Jack Cross) and Woodlander Sir Gorgeous (SP) (Woodlander Santana x Synod Rum Punch) became the High Score and Reserve High Score for dressage foals on the day following their successful evaluations. Sailing (Set Adrift x Supreme Leader) gained a Higher First premium in the Eventing section, with stable mate Christian (Christ x Bacchus Z) finishing the day with an Elite premium in the Show Jumping – congratulations to breeder and owner Geri Eilberg.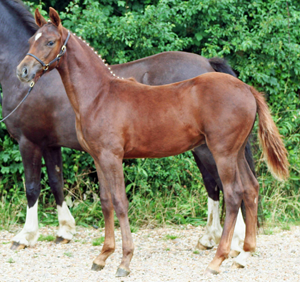 Things went just as well on Friday. Our second pony foal, Woodlander Wallis (Woodlander Wavavoom x Talon Teifion) - full brother to Elite foal Woodlander Wales (2011) - followed in his brother's footsteps with an Elite score. Currently Wavavoom has produced two out of the top three dressage foals in the evaluations this year - however with more evaluations still to come, we may have to give up this position shortly!

Two foals owned by Alison Walton also did remarkably well, with Archie Mali (Ampere x Florencio, and part owned by the Eilbergs) gaining the highest Elite of the series (9.5) so far this year in the dressage foal section; and Midnight Blues (Mighty Magic x Woodlander Bombay Sapphire) gaining a Higher First premium.

And to round things off nicely, stud livery GB Times CVS (Painted Black x Goodtimes) also gained a Higher First premium – congratulations to owners Brian and Beverly Rumbold.