News
July round-up and a big thank you!
27-07-2012 15:47:29 by Woodlander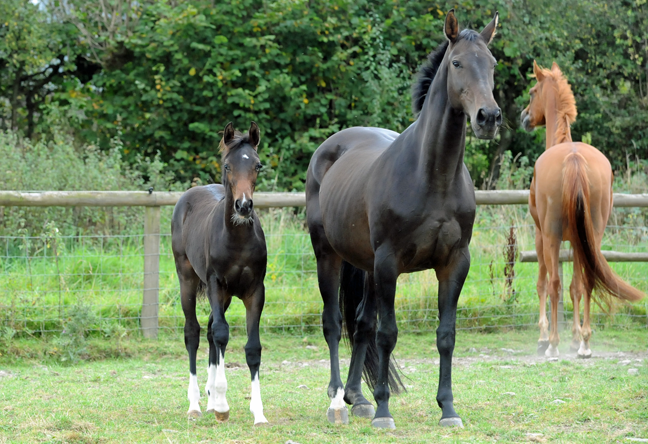 We'd like to say a belated but very big thank you to everyone who suggested names for our Santana foal out of Piroschka (x Prince Thatch xx). There were so many great suggestions for names beginning with 'S' with a rock and roll theme that we ended up using 3 of them - Sunshine Superman for 'Push's' foal, plus Smokey Robinson and Spirit in the Sky. You can see full details here and thank you again.

As well as last weekend's excitement with Farouche, our youngsters have been out and about to Futurities. At Catherston on 10 July, Woodlander Dr Feelgood (Del Amitri x Wenzel I) got a Higher First Premium of 8.99, becoming the highest placed Dressage 3YO at the venue. Winwood (Wavavoom x Modriaan) also got a Higher First Premium of 8.60, claiming the Reserve High Score in the 2YO Dressage section at the venue.

At Arena UK on 26 July, Woodlander Betty Boo (Benetton Dream x Londonderry) got a Higher First with 8.79% and was top Dressage 3YO at the venue. Woodlander Mama Mia (Monte Bellini x Sao Paulo) got a First with 8.45, which was the high score in the 3YO Show Jumping at the venue.

And on the home front our wonderful foundation mare St Pr Savannah (above with Mama Mia and also mother to Rockstar amongst many others) arrived back to Sulby from Twemlows. Two embryos have been successfully collected from her, by Supertramp and Goetterfunke, and it's lovely to have her back.

Have a great Olympic weekend everyone, we're having a BBQ this evening and watching the Opening Ceremony on television. Go Team GB!