News
Futurity Round-Off!
29-10-2014 14:40:00 by Woodlander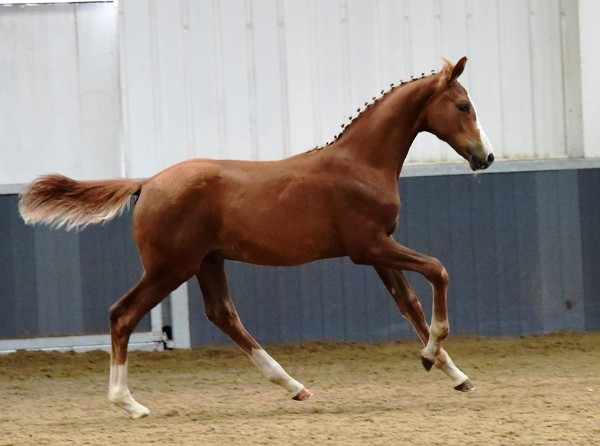 Mixed feelings as another Futurity season comes to an end. As an evaluator I have really continued to see an improvement in the youngsters presented and a real interest in qualification for the Equine Bridge. Long may it continue!
We have probably presented the largest number of foals ever for ourselves and our breeders and today at Solihull was no exception with Elites for our own horses and those bred by others from our stallions. We are also very happy with the Higher Firsts and today a couple "got away" with just a .01 or a .10 from Elite.
By my calculation with the last Debonair shown today actually switched to dressage, Debonair will finish in pole position with five foals and three Elite colts. Excellent work. I think he knocks out the combined Totilas and Moorlands Totilas (one and the same horse) which was pointed out by a happy breeder. Wavavoom powers on with 33 offspring and still the highest Top Five scores but more significantly a very high Higher First average of 8.93. This is going some. He is also the top pony sire courtesy of Wales, Wallis and Wagalina. Stallions like Grafenstolz are similarly laudable with over 100 entries and a Higher First average. This data is vital to breeders. The first crop from Clapton were shown by our breeders and his four averaged 8.71, Goetterfunke produced an average of 8.83 and Supertramp 8.77 with now 18 children presented.
I think I have counted 33 dressage Elites of which no less than 12 have a Woodlander connection - our clients, our breeders, our owners and of course our own horses. Fabulous. We have the top pony and the top dressage two year old....... and for Bruce Matthews, the top dressage sire.... could not be happier.
Thank you to the amazing pixies at Woodlander Stud and congratulations to all our owners and breeders... it was great to see you!
Woodlander 2014 Futurity Roll of Honor:
| | | |
| --- | --- | --- |
| Woodlander Words of Love (Pictured) | (Wavavoom x St Moritz) | Elite (9.33) |
| Woodlander Quo | (Quasar de Charry x Margue H) | Elite (9.33) |
| Woodlander Gloria | (Grey Flannel x Hotline) | Elite (9.22) |
| Summertime Blues | (Spörken x Margue H) | Elite (9.21) |
| Zazu | (Zack x Londonderry) | Elite (9.20) |
| Dvorak | (De Niro x Florestan) | Elite (9.19) |
| Dashing | (Debonair x Don Frederico) | Elite (9.15) |
| Woodlander Wales | (Wavavoom x Talon Teifion) | Elite (9.14) |
| White Mischief | (Wavavoom x Don Juan de la Bouverie) | Elite (9.13) |
| Deboniska Highbury Stormy J | (Debonair x Pik Polo) | Elite (9.11) |
| Wikipedia | (Wavavoom x De Niro) | Elite (9.04) |
| Divine Comedy | (Debonair x Ritmeister) | Elite (9.00) |
| Ciao Bella | (Clapton x Weltregent H) | Elite (9.00) |
| Whole Lotta Love | (Wavavoom x Fidermark) | H. First (8.99) |
| Waverley Cristal | (Clapton x Don Frederico) | H. First (8.97) |
| Woodlander For Your Love | (For Compliment x Longchamp) | H. First (8.93) |
| Southlands Waluska | (Wavavoom x Flagmount King) | H. First (8.89) |
| Shine A Light | (Supertramp x Florencio) | H. First (8.89) |
| Don't Tempt Me | (Debonair x Now or Never) | H. First (8.86) |
| Dark Magic | (Debonair x Songline) | H. First (8.86) |
| Sunday's Child | (Supertramp x Distelzar) | H. First (8.82) |
| GF Savea | (Supertramp x Duino) | H. First (8.79) |
| Serengetti | (Supertramp x Florencio) | H. First (8.75) |
| Walentina | (Wavavoom x Friedensfurst) | H. First (8.74) |
| Booker T | (Bordeaux x Margue H) | H. First (8.73) |
| Lordships Unnamed | (Wavavoom x Netherkelly) | H. First (8.73) |
| Woodlander Summer Breeze | (Supertramp x Margue H) | H. First (8.70) |
| Wavavoosh | (Wavavoom x Idealist) | H. First (8.68) |
| Sister Moonshine | (Supertramp x Nickson) | H. First (8.63) |
| Shotgun TR | (Supertramp x Accondy) | H. First (8.61) |
| Spring Serenade | (Supertramp x Rockstar) | H. First (8.52) |
| WFD Wilomena | (Wavavoom x Pro-Set) | H. First (8.51) |
| Platinum Commodore | (Clapton x Voltaire) | First (8.49) |
| Wasimah | (Wavavoom x Shaab) | First (8.49) |
| Remus Ricarda | (Rockstar x Donnerhall) | First (8.43) |
| Crown Jewel | (Clapton x Carrabawn View) | First (8.38) |
| Will I Am | (Wenckstern x Norton Challenger) | First (8.36) |
| Super Cloud Catcher | (Supertramp x Charnwood Forest) | First (8.29) |
| Shake It Like Shakira | (Supertramp x Dillen) | First (8.25) |