News
A really special weekend at the Nationals...
29-10-2014 14:52:41 by Woodlander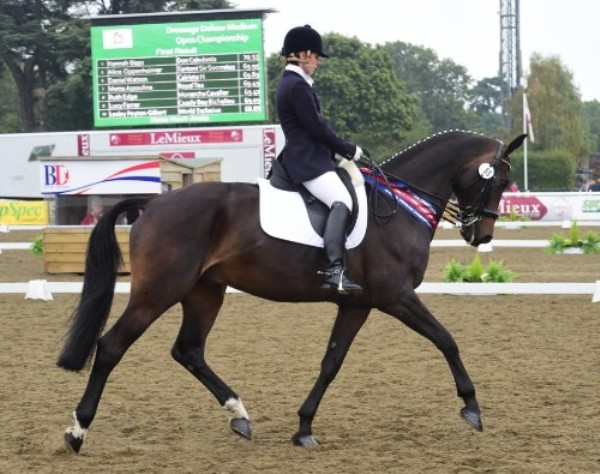 A really special weekend at the Nationals with lots of old friends and a fabulous result for Shamwari Debonair, bred by Heather Stack and owned by Bruce Matthews. He reached the last six of the four year old championship and then just got better and better to narrowly miss Reserve Champion four year old. He was totally convincing and brilliantly presented by Leah Beckett who has nurtured him, with Carsten Sandrock through his growing up.
The weekend saw many Woodlander horses with their riders...
Farouche was spectacular as usual and won the PSG despite some mistakes because the good was outstanding... Woodlander Rapido with Annette Davis Green (pictured) took 11th place and the highest placed amateur in the AM Open... a really great result when she works full time and has trained this horse from the very beginning! Congratulations too to Katrina Cantrell (a long time Woodlander pin up!) for her success with Woodlander Donna Summer who is clearly now starting to cope with the atmosphere at the Nationals. Big cheers too for Rachel Black with Woodlander Roxette! Supertramp also a star with Carsten Sandrock, one of few stallions in the atmosphere to behave impeccably. It was lovely to see again Amanda Leaker with her new baby who rode for Woodlander for 8 years and Cath Creemer who did a 10 stretch!
Carl was special as usual, Spenny showed the special Numberto in the Grand Prix and the whole class was mesmerizing. Marakov stood supreme with special music and his extraordinary piaffe and passage. And finally, we got to spend some good time with what we hope will be a good and long term partnership with Team Hayler... Congratulations to Paul for his new role as BD Training Director and Bobby with her sponsors and we hope no permanent switch to reining for which she showed a real talent. Here's to next year and to all our breeders, owners and riders!