What We Do

THE BEST OF BRITISH BREEDING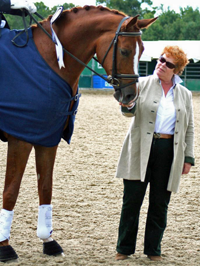 Lynne and Dave Crowden have been learning to breed and produce successful horses for racing, eventing, jumping and dressage for over thirty years. Our passion is now dressage but athleticism is key and we love the energy and stamina of jumping and eventing blood to ensure this.
Our breeding plan and methodology is based around the best of German practice... why not be influenced by the most successful breeders of dressage horses? And why not keep up with them with the most modern types and lines rather than being at least one generation behind? This makes the Best of British Breeding.
PRODUCING THE MODERN DRESSAGE HORSE
By breeding from the very best dam lines where sport performance can be seen, just as we did for racing success, we believe that we increase the probability of success without the crazy price tag of buying. But we do also buy, and we may pay top prices if we believe that a mare or stallion will make a substantive difference to our breeding programme. Our purchases have proved their investment in hand, under saddle and at stud.
THE TEAM
Running Woodlander Stud is not just a job but a 24-hour way of life for the people involved, and the success of the Stud is a reflection of the talent and dedication of the Woodlander Team.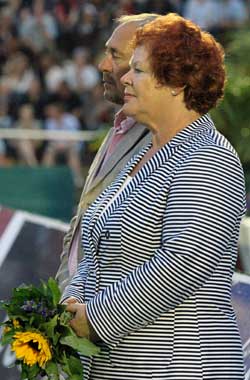 Lynne and Dave work tirelessly both centre stage and behind the scenes, whether sweating over a foaling mare or a hot computer! They have bred over 400 foals and ensure they achieve the best results from their breeding by using the best training and riding.
Lynne began riding seriously in her thirties through hunting, team chasing and hunter trials, followed by dressage when 'self-preservation' became vital to her burgeoning headhunting career and growing family. Her interest in breeding began with racehorses, incorporating the theory of TB breeding and 'black type'. This unlikely beginning resulted in six money winners from eleven foals, including Pink Gin who won £56,000 and ran in the Grand National. This experience convinced Lynne about line breeding with top dam lines.
Funded by her day job as a Headhunter in the automotive industry, Lynne and Dave have bred top competition horses from German mares, including an outstanding win for the homebred Woodlander Farouche in the 5-year old World Championship in Verden, Germany in 2011, a win repeated in 2012 when Farouche added the 6-year old World Championship to her resumé.
Lynne also works tirelessly to promote British Breeding with the BEF Programmes and Futurity, the BBSH (British Bred Sport Horse), the Warmblood Breeders' Studbook UK and the BHHS (British Hanoverian Horse Society). And as if life wasn't busy enough, Lynne and Dave have four children, nine grandchildren and a Jack Russell called Elton!
CARSTEN SANDROCK - Head Rider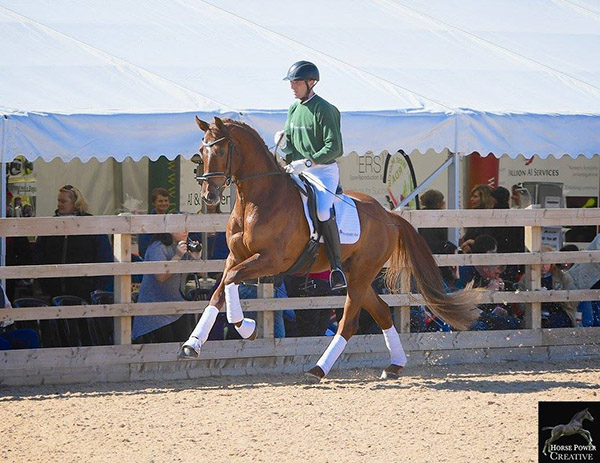 Carsten is a German Bereiter and the Head Rider at Woodlander Stud. He is responsible for supervising the hard-working team and breaking in and producing all the young horses, preparing them for gradings, shows, young horse competitions and for sale. He has been with Woodlander for many years and produced champion young horses Wavavoom and Farouche, prior to their transfer to the Eilberg Team for their ongoing training and competition careers.
Carsten works closely with Lynne and as well as producing the Woodlander youngstock they also provide a professional training service for clients' young horses. Please contact us for further information.
As well as the Breeding side of our business, we also offer the following services:
1. Schooling liveries
2. Stallion preparation
3. Mare preparation
4. Breeding and young stock liveries
5. Horse sales, including foals, youngstock, ridden and breeding stock